Book Review: The Go-Giver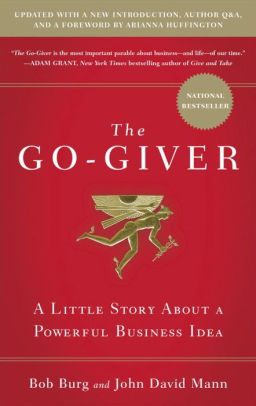 I am part of an accountability group that has posed a challenge to read 52 books in 52 weeks. This is not just any 52 books, but books that can help me grow both personally and professionally. The first book I read is the The Go-Giver, by Bob Burg and John David Mann. The following are the key takeaways:
The Law of Value – True worth is determined by how much more you give in value than you take in payment.
The Law of Compensation – Your income is determined by how many people you serve and how well you serve them.
The Law of Influence – Your influence is determined by how abundently you place other people's interests first.
The Law of Authenticity – The most valuable gift you have to offer is yourself.
The Law of Receptivity – The key to effective giving is to stay open to receiving.
Some of these ideas are paradigm shifts for the traditional business person. In my current 9-5 industry, worker value is based on the amount of revenue one brings in. It's an extremely competitive landscape. But in many ways, the authors are suggesting that the person with the proper heart alignment wins. What do you think? Tell us at @gumshoeonline

t